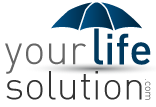 Chicago, IL (PRWEB) April 06, 2014
YourLifeSolution, a service which provides instant online insurance quotes, is today alerting those with multiple sclerosis that life insurance is entirely available to most all of them. Eric Smith, the founder of YourLifeSolution.com, believes this is noteworthy since people with MS have largely been considered uninsurable in years past. "Not only has life insurance for MS sufferers been virtually impossible to acquire in the past decade, but when it was available it was generally very expensive, as-in 100%-300% more expensive than typical life insurance rates. Today, it's generally only slightly more expensive than average, at the carriers where it's available, and with one life insurance carrier it can actually be acquired without a lab exam," said Eric Smith.
YourLifeSolution.com intends to market life insurance for those diagnosed with MS in various MS publications in what they believe will believe a mutually beneficial arrangement. "In the past, I had been asked many times what life insurance was available for those with multiple sclerosis, and frankly I never had an attractive answer," said Eric Smith.
Consumers seeking information on term or permanent life insurance products are encouraged to visit YourLifeSolution.com, or call Eric Smith at 888.374.2764.
Related Life Insurance Life Agents