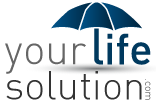 Chicago, IL (PRWEB) April 01, 2014
Eric Smith, the founder of YourLifeSolution.com, is announcing on his 29th birthday of March 31st 2014, that he is committed to generating a 7-figure income by age 35. Previously he had expected to accomplish this by age 30, but due to setbacks in marketing and a desire to take on little-to-no debt, he has revised his goal to 35 years-old. "I've become far more interested in becoming educated in handling complex transactions and products and figuring out the most sustainable way to build an online life insurance agency, more-so than interested in making more money in the present," said Eric Smith.
Eric Smith's future plans involve contracting dozens of agents under his brand and investing profits from his online life insurance service into environmentally positive projects such as wind farms and viable solar energy projects.
Those interested in viewing instant life insurance quotes online are encouraged to visit YourLifeSolution.com. Those interested in receiving life insurance information by phone can do so by calling 888.374.2764.
Find More Life Insurance Life Agents